Looking for a way to protect your home's gutters? Want something that eliminates the need for cleaning your gutters forever? Leading Long Island home contracting company Pro Quality Home Improvements has you – and your gutters – covered. Pro Quality is the exclusive Gutterglove dealer/distributor in Nassau and Suffolk Counties.
Gutterglove gutter guard is a unique gutter protection product, and has been ranked for two years running by Consumer Reports as the number one gutter guard on the market. The patented design of this particular gutter cover prevents debris such as leaves, sand, seed pods, twigs and pine needles from entering and clogging your rain gutters.
Pro Quality offers two types of Gutterglove gutter guards:
Gutterglove Pro
Gutterglove Pro not only prevents debris from accumulating, but it also filters more than 150 inches of rain per hour, thanks to its 316 stainless steel mesh. Barely visible from the ground, it fits on any roof or gutter type. Its extruded, perforated, anodized aluminum support frame makes it even more adaptable and easier to install on copper gutters.
There are three offerings:
The 5'-long, 3.5"-wide Gutterglove Pro Junior fits on 2″ to 3.5″ gutters.
The 5'-long, 5.75"-wide Gutterglove Pro Standard fits on 4″ to 5.5″ gutters.
The 5'-long, 7.75"-wide Gutterglove Pro Super fits on 5.5″ to 7.5″ gutters.
Gutterglove IceBreaker
Gutterglove IceBreaker is a heated gutter guard that not only protects against debris, but also prevents snow from building up and icicles and ice dams from forming. The energy-saving IceBreaker simply requires a single heat cable to melt snow and ice. Click the graphic below to find out how ice dams form and how the Gutterglove IceBreaker can help.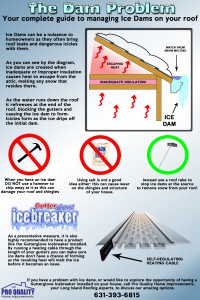 The five-foot-long, 5.75"-wide IceBreaker fits on 4″ to 5.5″ gutters and also features a perforated aluminum channel and type 316 stainless steel mesh.
Both Gutterglove products can act as a first-stage filter for rainwater harvesting systems.