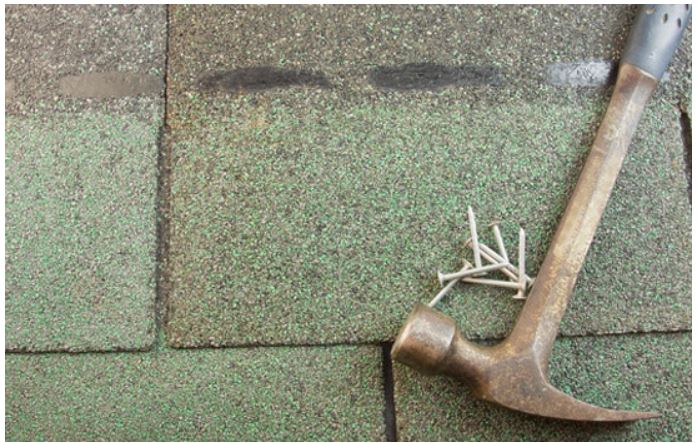 As the springtime rolls around and the snow starts to melt, it's the perfect time to step outside, breathe in the fresh air and… check your roof? While it might not be on the first task on everyone's mind, Pro Quality Home Improvements, your Long Island roof leak repair experts suggest that the first months of spring are the perfect time to check for any damage that might've occurred during the winter and allows time to get these issues looked at before the weather gets too hot.
First thing's first, you're going to need to do a quick self-inspection on the outer roof. If you feel comfortable on a ladder head up to roof level to inspect it close-up or alternatively use a pair of binoculars from the ground to find obvious faults in the roof. What you want to look for are shingles that are damaged, missing altogether or those which are lifted and/or have curved edges. Also if you see any shingles which look smooth with dark surfaces they have probably lost their granules which both protect against UV rays and are fire resistant. Make note of any shingles that meet these conditions and call a professional to replace the failing shingles to prevent against any leaking.
Now it's time to take the inspection inside and up to the attic of your house. With the lights turned off check to see if there are any signs of light shining through small holes, especially around the joints of your roof and your chimney. This is where the flashing is located on your roof and if that is being weathered it can cause leaking into the attic and subsequently the rest of your house. Now turn the lights back on and look for any moist and soft spots on the roof or any obvious water staining especially after a rainstorm. If these issues are commonplace around the attic of your home it might be time to call in a professional.
Doing this check-up at least once every spring can ensure no avoidable problems sneak up on you and can help pinpoint issues before they become devastating. Here at Pro Quality Home Improvements, Inc. roofs are a specialty of ours and no job is too big for us to handle. So if your springtime roof-check shows you some problems that the winter months might have caused, contact us for a free quote so we can help repair your roof and bring it back to its finest condition.